I would like to name the article "Worst XI" but that would be an overreaction. This article will consist of players who many thought would perform well but they actually flopped. Players who are expected to shine yet to no avail and make you wonder where was the hype in the first place.
Here would be my Underperformers XI!
Formation: 4-4-2
Goalkeeper: Manuel Almunia (Arsenal)
From knocking Jens Lehmann's berth, being named captain, to eventually being 3rd choice behind 2 young Polish Goalkeepers in 1 season, Almunia has been through it all. Committing fatal blunders cost him his place in the Arsenal team and trust from manager Wenger. A great case of Top to Flop.
Rightback: John Pantsil (Fulham)
After experiencing a great World Cup with Ghana, he went back to England only to score owngoal after owngoal, blunders galore, and disappointing outings. This left him to be behind Chris Baird in the pecking order. Even when Baird gets injured, centrehalf Aaron Hughes is preferred to deputize.
Centreback: Sebastien Squillaci (Arsenal)
Gunner fans were excited of the prospect that a French International defender was to pay for Arsenal and Squillaci already made a name for himself back in Sevilla. Turns out he was more of a Boumsong rather than a Desailly as he never looked convincing with lapses of concentration even Titus Bramble would be ashamed of.
Centreback: Ian Evatt (Blackpool)
In a season where Blackpool showed a great case of attacking play, their defence has been wobbly. Sure, Evatt wasn't the blame for the whole bad Blackpool defence, but he did have his bad moments. Particularly the standout mistake was when he almost made sure Blackpool were relegated as he scored an own goal against Manchester United, only for Michael Owen to relieve his blushes.
Leftback: Paul Konchesky (Liverpool)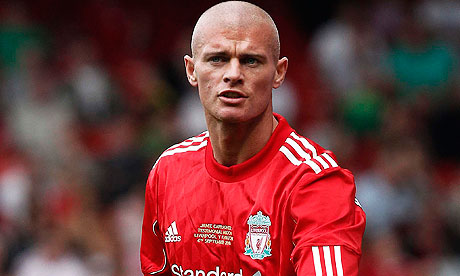 Liverpool fans were cautious over the move and they had every reason why. A player who hasn't been a standout for Fulham but consistent enough was bought by Roy Hodgson to solve their left-back case. Instead he failed to play well and eventually loaned for 6 months to Nottingham Forest. Bad luck.
Right Wing: Bebe (Manchester United)
When the headlines read "ManUtd signs young unknown Portuguese winger for £8M", everyone expected someone like a Cristiano Ronaldo or Nani mould who has been a success in their home country. Sad thing is, Bebe was a stranger in Portugal as well, and it showed in his handful of appearances that he lacked any quality of a football player, let alone a ManUtd player.
Central Midfield: Christian Poulsen (Juventus)
It was a curious case when Liverpool signed a Juventus reject when Juve themselves had one of their worst seasons in 09/10, and during his time in Anfield he even lost a starting berth to an unknown quantity of Jay Spearing. He's lucky he cost for a relatively cheap price of £4.5M otherwise he would be an expensive flop.
Central Midfield: Aliaksandr Hleb (Birmingham)
Many thought Birmingham did a fine piece of business to lure in ex-Arsenal star Hleb on loan from Barcelona after a successful spell at Stuttgart. Gosh how everybody was wrong. He barely could break into Birmingham's starting XI and when he did he became non existant on the pitch. Pity.
Left Wing: Joe Cole (Liverpool)
Signing an England International on a free? Couldve been signing of the season if it worked out. He got sent-off on his debut, got injured a lot, and when fit he never shown his quality that made him a star back at Chelsea. Burnout I suppose.
Striker: Jermain Defoe (Tottenham)
I feel bad for putting him here on the Underperformers XI, but what can I do? only 4 goals all season? Certainly not his usual Defoe. Yeah he did get injured early on, but he never found his old form since. At least Peter Crouch has been a handful in Europe.
Striker: Fernando Torres (Chelsea)
He wasn't that bad early on with Liverpool. 9 goals when out of form wasn't a bad return. But ever since his surprising £50M big money move to Chelsea, he also became surprisingly horrible. His inability to work well with either Didier Drogba or Nicolas Anelka and only scored 1 goal in 14 appearances, he made himself a laughing stock because of his performances.
Certainly theres more underperformers than these 11 players, namely John Obi Mikel, Andrei Arshavin, Abou Diaby, Jonny Evans, Heurelho Gomes, Pablo Barrera, even Jerome Boateng.
Agree? Disagree? This my team, don't know yours.