There's a popular saying that that men will always seek improvements since they are never content. Another popular quote is that sometimes the grass is always greener on the other side. But there is also another saying that too much of anything is never good. This is not an attempt to write a philosophical article, it's just that it seemed like the best way to open this particular piece.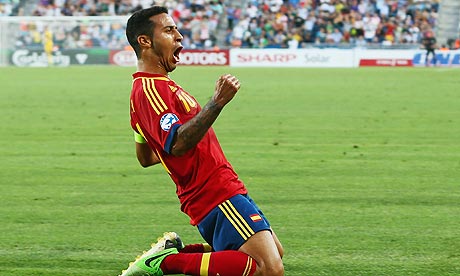 Fig 1. Thiago Alcantara
Pep Guardiola - the new Manager of treble-winning German side Bayern Munich - declared his interest in signing Spain wonderboy Thiago Alcantara from his former employers Barcelona and is very keen on signing him. Although nothing is official yet as of the writing of this piece, reports have said that he is close to sign a 4-year contract.
I'm going to be mainstream on this article and say that I do not approve this move at all. Not because of being a United fan and is pissed that he would rather go to Allianz instead of Old Trafford, but because of the wealth of talent in midfield Bayern already have in their locker room. This side has a squad depth in every department which makes even Real Madrid and Barcelona jealous of. The last thing either of those clubs would want to do is strengthen the Champions League holders.
Fig 2. Bayern Munich's Champions League Final Line-up
Above is the line-up former Manager Jupp Heynckes fielded at Bayern's last season's Champions League Final. Note that classy defender Holger Badstuber and midfield maestro Toni Kroos were out injured. The team that played brilliantly against Borrussia Dortmund wasn't even their best team and still were able to win. Javi Martinez, who tackled and passed the whole night, was covered by Bastian Schweinsteiger, who played in front of the defense, were a perfect compliment to the hard working mentality of Thomas Muller that night, who also had the flair of Arjen Robben and Franck Ribery on each flank - the former scoring the winning goal and made another - nicely foiled their main striker Mario Mandzukic for every chance that came his way. Again I will state, this is not their strongest team. Kroos' absence shows how well of a team Bayern actually created.
Lest you forget that Luis Gustavo's name has not even been mentioned yet. The Brazilian was part of a strong, mobile midfield trio that won last month's Confederations Cup, and even he only made it on the pitch at that final in the 90th minute. Swiss winger Xherdan Shaqiri also was on the bench but he didn't even make on to the pitch. Oh yeah, I must have neglected to tell you that they also signed Mario Gotze this summer. So those 5 spots in midfield will be challenged by 9 world class internationals. The last thing they want is more competition. Oh hang on...
Fig 3. Pep Guardiola
Thiago may not be first choice back at Nou Camp, but the aging pair of Xavi and Andres Iniesta should give him more first-team chances next season. It's hard enough to get into the first team at Barcelona, let alone at Bayern. Their midfield is so blessed with talent, you can't help but say "too many midfielders is not good".
Guardiola though claimed to the press that he promises Thiago will be a mainstay in the Bavarian's midfield. Okay, he's the one who has 47 caps as a player for Spain and won 15 trophies as a Manager, but with all the stars in his FC Hollywood, he still is keen on a fringe player in Barcelona. Even if my Football Manager CV is way better, it does not count as valid grounds that I am better than him, but of course I'm skeptic over this potential purchase.
Pep admitted that with the possible purchase of Thiago, Javi Martinez would be put in defense where he could emulate his days at Bilbao as a ball-playing defender. It seems like it solves a problem, but it doesn't. Bayern's defence was the strongest, only conceding 18 league goals all season. If Martinez were to play in at the back, who gets to sit on the bench? Dante or Badstuber? Jerome Boateng is like the first choice back-up in defence as he could play anywhere in the backline. His chances may be limited now with this choice of tactic. New signing of young defender Jan Kirchhoff would seem like a waste now if this were true.
Fig 4. Javi Martinez
Another problem with the potential arrival of Thiago is who would partner him, who moves into a different position, who goes to the bench, or who might just leave anyway. With Pep's admittance of Thiago being a key player, he might certainly partner Bastian Schweinsteiger, who could be the 'Busquets' of Pep's formation where he sits in front of the back four, straying magical passes between the opponents, and do his business thoroughly. This will leave Thiago to become the playmaker of the team, a sight which everyone wants to see after his amazing performance in the last Euro U21 competition where he was awarded 'Best Player of the Tournament' after a hat-trick in the final against Italy. Toni Kroos looks to be the best possible personnel between Schweinsteiger and Thiago, not to mention his dead ball skills would be handy.
Since Guardiola loves a man who works like a horse (in a professional way, not the literal meaning), then Thomas Muller would most likely be the man playing on the right-flank, a position that made him famous whilst playing for Germany in the 2010 World Cup. New signing Mario Gotze in my personal opinion would not be a bench-warmer at Munich as Pep - I believe - will play on the left-flank where Ribery is usually played. I expect both wings would get lots of rotation so the likes of Robben and Shaqiri would stay happy.
Fig 5. Thomas Muller (left) and Toni Kroos (right)
The assurance of an out-and-out striker in this team is never guaranteed. Even Mario Gomez has left the club and joined Fiorentina, leaving only Mario Mandzukic and Claudio Pizarro as the only recognized forwards in the first team. Guardiola's system never used a type of target-man type of striker, but Mandzukic isn't one of that despite of his stature being an ideal type of a target-man. Mandzukic is the type of forward that could lead the line by himself, but will come deep to get the ball, run around channels, set up shots for himself and others, and will pop up for a tap in/header. He might be given a go from the Manager, but during the season progresses, I predict Pep will eventually put Muller up front and put either Ribery or Robben on the spare wings. Since all of his wingers can play both flanks, this would not be much of a problem.
This leaves Luis Gustavo without any role in the team. He might be a key player for Brazil, but it seems that he will have difficulty breaking in to this team. What a luxury it may be to have a back-up player such as Gustavo, but if Thiago's move becomes a reality, Gustavo might think of seeking new pastures in order to keep his place in the Brazil squad that will host next year's World Cup.
Fig 6. Potential Bayern Munich Line-up 2013-2014
From this not-so-in-depth tactical analysis, Thiago's potential move to Bayern may work, but the balance of the club would take a huge plunge. We know he's got the talent to do so, but competition for places at Allianz ArenA is far tighter than at Nou Camp. If would not be a loss for either Bayern or Barcelona if he were to stay put, but it could be a potential loss for both sides if the move would happen. If he were to move, it is better if he actually transferred to a team where he would be the biggest star of them all. But if he does sign for Pep's new club, I would love to both Pep and Thiago to prove me wrong.