Note: This article was posted earlier in the month (February 4th) at @PanditFootball (click here). The passage was posted in Bahasa Indonesia, but here I will post the original written article, in English, the way the writer originally intended it to be.
What does Theo Walcott, Javier Zanetti, Ronaldinho, Nani, and Mario Balotelli have in common? They all once were controversially not selected by their national coach.
Fig 1. World Cup
Sure, even with the large number of 736 players called up to represent 32 different countries in the World Cup this summer, the number of players that will not participate is an even higher number. Even stars that have nailed their names in the biggest leagues of Europe, including the names above, has been in that position.
These players' exclusion could be cause by different reasons, namely; injury, internal conflict with the head coach, or simply because the coach thinks "he's not good enough". However, the nations from the five aforementioned players had a disastrous World Cup campaign four years ago. Sure, it could be caused by a horrific team performance overall, but it could due to the lack of contribution of these players.
The 2014 World Cup will be no different. There will be surprising inclusions and exclusions. For every Emile Heskey, there will be great inclusions such as Angel di Maria. And for every Karim Benzema, there will be considered 'better' exclusions like Raul Gonzales.
Then, what components are in there in a squad? What types of players will be called up for their respective nations? For your pleasure, I have categorized them into five different criterias.
Criteria #1: Reputation
Reputation is the first trait in every single national squad. Players with a huge reputation will always be called up by their head coach strictly because they are considered to be the star that will guide the nation towards success. He could go through a dismal season, or just healed from a injury, but if he is known to be one of the best in the country, no way he will be left out of the a tournament this big.
Don't think of names like Lionel Messi or Cristiano Ronaldo because they have proven their large rep. Try names like
Wayne Rooney
or
Lukas Podolski
.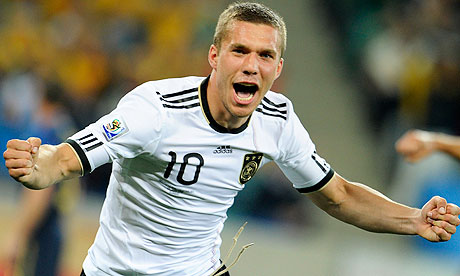 Fig 2. Lukas Podolski
Rooney is regarded as England's best striker, while Podolski is the golden boy of Deutschland for a long time. Even if they have gone through a torrid season, they will not fear for their place in their respective national team set-up.
Don't believe me? Ask David Beckham in World Cup 2002, or Fernando Torres in Euro 2012.
Criteria #2: Form
In the last on or two seasons before an international event, the consistency and performance of a player will influence strongly to getting a nod for a team spot. But not all in-form players will be called. Because unlike the first criteria, if you don't have a big reputation, you probably won't go. Just like the case for Darren Bent in South Africa 2010.
Fig 3. Pedro (left) and Sergio Busquets
Yet, teams that fill their team with in-form players will help the team greatly to achieve success, or at least reaching the finals. Cesare Prandelli's choice to bring
Antonio Di Natale
and the Juventus defensive trio of
Andrea Barzagli
,
Leonardo Bonucci
, and
Giorgio Chiellini
guided Italy in a run to the Euro 2012 final. The back-in-the-day not-so-famous Barcelona contingent with the likes of
Sergio Busquets
,
Gerard Pique
, and
Pedro Rodriguez
played a part in Spain's 2010 World Cup triumph.
Criteria #3: Merit
They don't have a rising rep, and their form is nothing special, but because of a low stock in a certain position, he gets a chance to play for their national flag. It doesn't mean that they're bad or they don't deserve it, but there must be a reason why they aren't as popular like the first type or as consistent as the second type.
This attribution will usually be associated with an understudy goalkeeper like
Victor Valdes
. He may not be famous like Iker Casillas, but his record in Barcelona's net (albeit not entirely on his own) is impressive. So I say he strongly deserves his spot.
Fig 4. Victor Valdes (right)
This case might be slightly different to
Robert Green's
case when he was recruited by Roy Hodgson in the Euros 2 years ago. Even though at the time he was playing in the Championship with West Ham, his inclusion wasn't much of a surprise because there wasn't any other 'keeper who merited a place.
Even so, the case of deserving or not deserving of a player's inclusion to a squad usually isn't such a big problem. National team coaches knows better than us mere mortals.
Criteria #4: Young and Talented
Fig 5. Pele (center)
This type is usually rare, but could come in handy. Players that are eligible for this category are those who are under 23 y.o., and has not become an integral part of either club or country. Players in this category are usually called up to have competition experience, like
Ronaldo
in the 1994 World Cup and
Theo Walcott
in the 2006 edition.
Besides gaining personal reputation, the players of the fourth type could actually become a secret weapon. Examples include
Michael Owen
back in 1998,
Thomas Muller
in 2010, even
Pele
in 1958 version of the competition.
At such a young age, these three players became stars for their nations. Even at the tender age of 17, Pele alone helped Brazil win at his first international competition. Not bad for a kid.
Criteria #5: Wacky Wildcard
The fifth type is usally the devil of every team. His inclusion to the team is considered so absurd because he does not fit into any of the four types above. He doesn't have the fame, he's not young, his performance for his club is considered bad, and there are many more players that deserves to be called up above him from his country.
But for what ever reason, the coach brings him anyway. Some say that his inclusion could be caused by a conspiracy or an something out of an illuminati theory. But deep down we know, it was all down to the manager's error of judgement. The less from this category, the better the chance of a good tournament.
A good example for this type would be
Vincenzo Iaquinta
back in 2010. He only played 15 times and scored 6 in the Serie A in the season prior to the proceeding World Cup, but the Italy manager at that time, Marcelo Lippi, called him anyway and started all 3 games. He did score a penalty, but Italy were knocked out in the group stage.
The newest example from Euro 2012 could be the inclusion of ex-Liverpool winger
Stewart Downing
. In the 2009/2010 season, Downing did not score or even assisted. But whatever Roy Hodgson saw in him, it was enough to call him up to represent England. "Luckily" Downing never left the bench at the competition, but England went out in quarterfinals anyway.
Fig 6. Vincenzo Iaquinta
I would assure you that every national squad in Brazil 2014 will have at least four of the five categories of players mentioned earlier. I reckon in June, when all teams are finalized, there will still be controversial coach selections. This article's main purpose was to make you to prepare for any surprise. But you'll never know, right?