I've seen to many views on this situation. Whether positive or negative (mostly the latter), it seemed like everyone had their take on David Moyes' sacking from his job as Manager of Manchester United. And boy did it cause a stir.
Most of the blame for United's dismal season is sadly but understandably pointed at Moyes, but that shouldn't be the case. Not only did Sir Alex Ferguson end a magnificent 26-year-tenure last year, but highly regarded Chief of Executive David Gill also stepped down to take a job within the English FA. The guy that replaced Gill, Ed Woodward, looked like he did not know what to do and it lead to Moyes' collapse in the market. So Woodward should get the blame just as much as Moyes did.
Fig 1. A repost meme. But it sure hell is funny.
I am not going to criticize on his amazing record, or praise for the few things he has done. I am here to shed light on a few things that should have worked but actually just flopped. Pardon me, may I?
How did you only manage to sign 1 player in the summer?
David's summer activity resembles a 14 year old playing career mode on FIFA, they'll just offer anybody rated above 85 big money. The difference IRL, none of these players were available for sale and he just looked like a goof dreaming on huge players. Cesc, Herrera, Song, Bale, even Ronaldo were rumored to be a subject of a bid, and all they end up with was an inflated signing of Moyes' old employer, a hugely talented an influential Maroune Fellaini from Everton. But...
How did the same manager make Fellaini suck?
Fig 2. Marouane Fellaini, clapping the amount he cost.
I stand here say that I was a huge fan of Fellaini back in his Everton days. What he lacked in pace, he made up with strength, height, vision, and technique. Playing as a defensive midfielder for his country Belgium and an attacking bulldozer for Everton, he should have been what United were lacking.
But 8 months on, he is considered a flop. Not usually the scapegoat, but of course seen as out of his depths. The thought that the same manager could not get the best out of the same player amazes me, especially when David knows him so well.
Why stick with underperformers?
Fig 3. Tom Cleverley, scapegoat for United's torrid season.
Young, Valencia, Cleverley, Smalling (you can add Fellaini as well on that list). The BPL defending champions better performances this season when these players weren't playing actually, yet somehow the new Scot at the helm keeps insisting to field these one-dimensional players, and leaving talents like Shinji Kagawa, Javier Hernandez, and wonderkid Adnan Januzaj on the bench. English winger Wilfried Zaha looked promising in pre-season but instead was loaned out to Cardiff, presumably he fell out because of rumor he was sleeping with the boss' daughter. If that was true, it was probably the only reason why David Moyes still found a spot for Ashley Young in the team.
Didn't Ferguson have a worse first season than Moyes?
Yes he did. But Ferguson was not taking over a team of Champions. In fact, the 1980s were bad for United, seeing Liverpool dominate the nation, and, the continent twice. United weren't a good side back then, but Sir Alex made them good in a few seasons after that.
Davey here however, is taking over a side that has just won the title for the 20th time in history - the most for any club. He's taking over a squad filled with medals around their necks and the reputation to equal. From being defending champions to no European football the next season takes some effort, but Moyes here seemed to do it with ease.
Should the gaffer's tactics be criticized here?
Yes, but that isn't my biggest concern. Even if the tactics were lame and up until the end of April, Moyes still does not have a real template on how he wants his team to perform, the blame should be pointed to every player in the squad, equally. They have not only let the manager down, but the club, the fans, and of course, theirselves. In the big games, most of the players did not seem to bother and play to the occasion and let the other title rivals win against them with embarrassing ease. I'm not much of a tactics guy, but how David is lining his players week in week out, they are never going to win anything. I thought it would be sorted out January, but up until April, it never looked like it was going to improve or neither did Moyes looked bothered to try.
Did Sir Alex Ferguson make the right choice?
Fig 4. The messiah.
He did - for his personal gain. I am no conspiracy theorist, but has it ever occurred to you that maybe, just maybe, Sir Alex personally chose Moyes so United sucked on purpose? Because if United were going to play bad without him, everyone will think Fergie's a God. And face it, Ferguson always wanted everyone to know that he's the boss around Old Trafford. Just don't let him overtake the helm again to detract from any Post-Power Syndrom and doing a 'Dalglish'.
Who will manage next?
I don't know. You tell me. For now, living legend Ryan Giggs will caretake up until the end of the season. After that, it is anyone's guess.
But did Davey make any good decisions during his tenure?
If you are talking about mid-game substitutions, not a chance. His best decisions were made off the field. He made sure Rooney was keeping put after rumors of leaving, and it showed how much of an influence he was first half of the season. He also signed Juan Mata in January, a talented Spaniard somehow unused in Chelsea's new Mourinho regime. The coaching staff saga is debatable, but having the balls to bring his own team of trainers is a plus for me.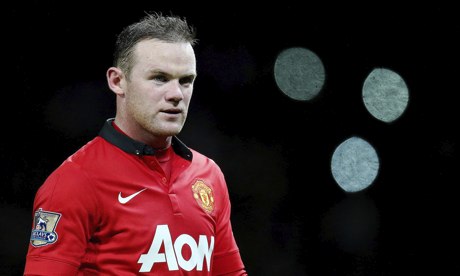 Fig 5. One of the few lights in this season's management, and Wayne Rooney.
I don't hate Moyes, it just did not work out. If he had time, he would probably have his own style of play with his type of players, yet it probably would not lead to success. After the Fellaini and Mata signings, the United board could not let this man waste their money again, and even though that is harsh, business wise is totally understandable. Moyes might have a good career in the future, and his Manchester United stint will only go down as a taint. Good luck for you David Moyes, we know you tried, but your tries weren't good enough.